Chinese Coffee (2006)
From sltarchive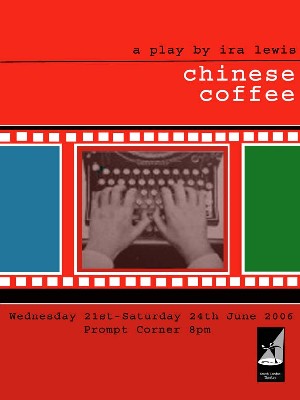 by Ira Lewis
Directed by Emma Connolly
Performances: Wed 21st – Sat 24th June 2006, Prompt Corner
Introduction
--Listen, you stole my life. And no amount of overwrought rationalizations will alter that fact.
--I did not steal your life! I merely put it to some imaginative use.
It is one in the morning on a freezing New York night when struggling novelist Harry Levine comes pounding furiously on the door of his best friend, photographer Jake Manheim. Harry has all of a dollar and a half in his pocket and Jake owes him a substantial amount of money. Jake has even less money on hand than Harry, but what is worse is that he has not, he declares, read the manuscript of Harry's latest novel, a work on which Harry's last hope is pitched. Or has he?
Relentlessly, obsessively, the desperate Harry probes the sardonic, world-weary Jake until the truth is finally revealed. Not only has Jake read the book and found it to be a thinly disguised account of their lives, loves and failures, but believes it to be a work of truly commercial promise, and perhaps of genuine artistic merit.
Fiercely jealous, believing himself to have been potentially the writer Harry has indeed become, the failed photographer attempts to destroy his friend's one chance to rise. The final moments of the play explode as Harry gains the courage to continue living and affirms his right to succeed.
Cast
Crew
Thanks to: Lionel Monks, Vic Pratt, Stephen McConnachie, Corinna Reicher, Steve Marchant, Bernie Bullbrook, Brian Fretwell, Brian Andrews and front of house volunteers, Alan Buckman, David Bray, Gary Spratley, Zena Choi, Louise Mappley, Robert Hamilton, Martin Phillips, Joseph Cabon, Lancasters.
Special thanks to Ira Lewis for his support.
Reviews
Some review quotes go here
Gallery
Reminiscences and Anecdotes
Members are encouraged to write about their experiences of working on or seeing this production. Please leave your name. Anonymous entries may be deleted.
See Also
Have there been other SLT productions of this play? Link to them here.
Or add anything that is related within this site. The author's page for instance or other plays with a similar theme.
References
External Links