Carpe Jugulum (2003)
From sltarchive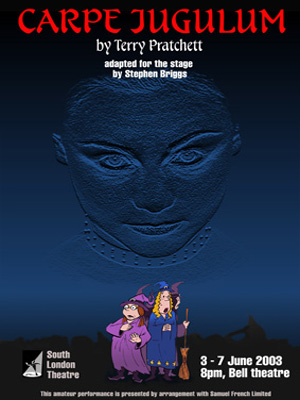 by Terry Pratchett adapted for the stage by Stephen Briggs
Directed by Stuart Draper
Performances: Tue 3rd – Sat 7th June 2003, Bell Theatre
Introduction
Vampyres have arrived in the kingdom of Lancre, and they intend to stay. They see the citizens as a ready source of convenience food.
Lancre's only defence is the Witches. However the witches find their matriarch, Granny, seems powerless to defeat the vampires. Indeed Granny has disappeared. This leaves Agnes, Nanny and a reluctant Magrat to deal with the situation. Help of a sort appears in the form of Mightily Oats, a priest. Oats has the Book of Om and his faith to help him combat the evil within Lancre, but he would dearly love an axe as well.
The cast features some well known faces, such as Jack King, Helen Chadney and Pat Mill. In addition there are many actors making their SLT debuts, including Angela Bruce and Daisy Horwell.
The South London Theatre production of Carpe Jugulum is a quirky blend of comedy, dark humour and horror. Stunning sets, costumes, sound and lighting will make this an impressive production you should not miss.
Stuart Draper<ref>Directors Notes - SLT Website</ref>
Cast
Crew
Reviews
Gallery
Reminiscences and Anecdotes
Members are encouraged to write about their experiences of working on or seeing this production. Please leave your name. Anonymous entries may be deleted.
See Also
Have there been other SLT productions of this play? Link to them here.
Or add anything that is related within this site. The author's page for instance or other plays with a similar theme.
References
<references/>
External Links