Blue/Orange (2006)
From sltarchive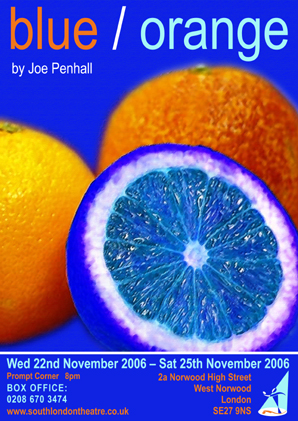 by Joe Penhall
Directed by Anton Krause
Performances: Wed 22nd – Sat 25th November 2006, Prompt Corner
Introduction
In a London psychiatric hospital, an enigmatic patient claims to be the son of an African dictator - a story that becomes unnervingly plausible. An incendiary tale of race, madness and a Darwinian power struggle at the heart of a dying National Health Service, Joe Penhall's multi award-winning play premiered at the National Theatre in April 2000. This tight, funny and thought-provoking three-hander comes to Prompt Corner in November 2006.
Cast
Crew
With thanks to: Phil Wale at The Hob, Forest Hill; Maria Bates, Mike Elliott, Carole Coyne, Christopher Vian-Smith, Alan Buckman, Linda East, Jess Osorio and the cast and crew of Neville's Island (2006) and A Christmas Carol (2006).
Reviews
Wow what a spellbinding production! A really mesmerising and dangerous performance from newcomer Chukwudi Onwere (very talented actor!) and also sterling work from the reliably excellent John Hartnett and Kester Hynds really proving himself.
Whatever you do, don't let yourself miss this show, which has to be a highlight of what seems to have been a particularly strong year at SLT.
David Lomas <ref>SLT Discussion Board - BLUE/ORANGE OPENS TONIGHT</ref>
From the moment Christopher (Chukwudi Onwere) came hurtling onto the stage, seriously endangering the life of Dr Bruce Flaherty (Kester Hynds), to the final poignant ending, I was engrossed.
Christopher Vian-Smith <ref>SLT Discussion Board - BLUE/ORANGE OPENS TONIGHT</ref>
It's been such a long time I was so engrossed in a play I'd almost forgotten how much I enjoyed theatre!
Emma Howcutt <ref>SLT Discussion Board - BLUE/ORANGE OPENS TONIGHT</ref>
Gallery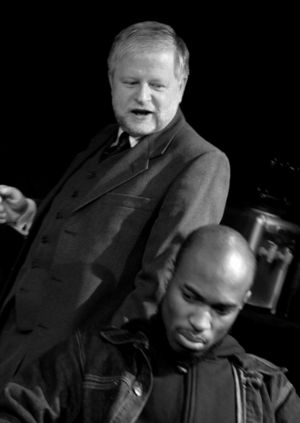 Reminiscences and Anecdotes
Members are encouraged to write about their experiences of working on or seeing this production. Please leave your name. Anonymous entries may be deleted.
See Also
References
<references/>
External Links