Blithe Spirit (2014)
From sltarchive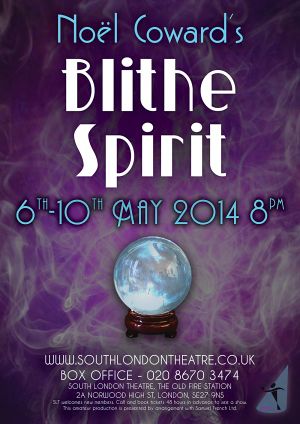 by Noël Coward
Performances: Tue 6th – Sat 10th May 2014, Bell Theatre
Introduction
The play is set in the early 1940s. The action of the play passes in the living room of Charles Condonmine's house in Kent.
Director's Note
Noel Coward wrote, 'I will ever be grateful for the almost psychic gift that enabled me to write Blithe Spirit in five days during one of the darkest years of the war.' He called it an 'imporbable farce'. It remained the longest running comedy in the British theatre for three decades thereafter.
Cast
Crew
Thanks
Sincere thanks to the many people who have helped with this production: Sarah and Robin at The Hope and Fiona and Michael at The Park for rehearsal space and generosity in providing this; Emmaus for generous loan of furniture and props, Anton Krause for invaluable advice and Katharine Limb for giving voice to "Daphne".
Many thanks to the wonderful cast and crew for their commitment, support and dedication. Thanks also to SLT Theatre Committee, Anna Toumanova-Sturdey, Linda at The Floral Hall,Naomi Liddle, Jennifer Cooper, Guy Jones, Ron Sales, Jenny Harris, Lily Ann Green, Malcolm Woodman, Matthew and all the bar staff, Jess and all the Box Office staff, the Front of House team and all the raffle volunteers.
Reviews
Some review quotes go here
Gallery
Reminiscences and Anecdotes
Members are encouraged to write about their experiences of working on or seeing this production. Please leave your name. Anonymous entries may be deleted.
See Also
Other SLT productions by Noël Coward:

Or add anything that is related within this site. The author's page for instance or other plays with a similar theme.
References
<references/>
External Links