Being Friends & Lost (2021)
From sltarchive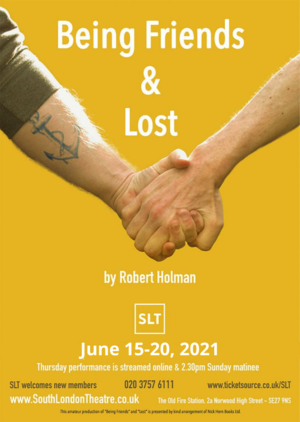 Performances: Tuesday 15 – Sunday 20 June 2021, Old Fire Station
Introduction
Two plays about connections between strangers in a time of war. In Lost, set during the Falklands War in 1982, Geoffrey visits May bringing news about her son Ian, who has a brilliant Naval career but has largely rejected his proud working class family. As they talk, the recall different sides of a complicated man and try to understand why he behaved as he did.
In Being Friends, set in 1944, Eric a talented but sickly artist and writer stumbles upon the idealistic Oliver, a conscientious objector working on a nearby farm. They open up to each other, discussing experiences of trauma, sexuality and their very different outlook on life, coming to a momentous conclusion in the case of one of them.
Cast
Lost

Being Friends
Crew
Reviews
Kim Goldsmith
I hope you are all rushing out to buy your tickets for Being Friends and Lost. A couple of wonderful intimate pieces to get your teeth into performed sensitively and with lovely nuance. As when SLT opened before, all is very COVID safe. Congratulations to Lisa Thomas, Caroline Beckett, Robert Wallis, Jacob Smith and Will Howells for two great shows, and how comforting to see Kay George back at her usual SM tricks. It would be great for folks to come out and support this show given how long the actors have had to remember their lines for 😉 and as a great SLT re-opening. BEAD!

Simon Gleisner
Just to echo the other posts about Being Friends/Lost. Not only is live theatre back, but we're reopening with a real corker. Two lovely, intimate conversations that show how talking to a stranger can be more revealing than we might expect, and even help us learn a thing or two about ourselves. They are poignant, hopeful, thoughtful and sometimes very funny. Please do come and see this show - Lisa and her cast and crew have done a fantastic job and deserve your support. And remember - if you can't make it in person, it's streaming on Thursday night.

Charlotte Benstead
Theatre's back baby! Well done to all involved in this cracking double bill. Some real emotional moments and some laugh out loud ones too. We're covid safe and I got to sit one seat away from Jeanette and we had a proper catch up. So why don't you just switch off your television set and go and do something to support the arts instead ?

Mark Ireson
Two intriguing short pieces by a writer I hadn't come across before, excellently directed and performed. Well done everyone.

David Carr
Fantastic performances this evening by the Lost and Being Friends cast. Well done all involved, shame I couldn't be there in person but the live stream worked really well, I just missed the interval and post show drinks and catch up! Great to see some live theatre.

Barry Heselden
What a lovely pair of plays I just watched at SLT. Great performances. GO AND SEE THESE.

Jess Osorio
Loved the plays tonight. 4 great performances, perfectly judged and beautifully directed. Do see them if you can, still tickets available.

Siobhan Campbell
What a joy to be back watching live theatre! Apologies for not sticking around but as you can see from time stamp, up for the early shift today. 2 great pieces, 4 very strong and very watchable performances. I always think it speaks volumes when you don't realise 20 mins has passed! Caroline Beckett and Robert Wallis kept the room silent and created a wonderful awkward tension. I wanted to hug them both. Also a brilliant bit of costuming for Cal, always impressed when people just change their appearance completely. Then in the second half Jacob Smith and Will Howells had me both giggling and feeling for them both. Then the walk home saw myself and Dave discussing the interesting characters there, there was a good deal of chat about the character of Eric, although there was plenty to feel sorry for him about and a fair few laughs, it was played so well with just a slight undertone of being almost a bit predatory (at least thats how myself and ginger took it) and I thought that was done really well. Jacob as Oliver responded perfectly too. I found the that piece really intriguing. Congrats to Lisa Thomas and all. Apologies for ramble, it's in lieu of post show chats.
Gallery
Reminiscences and Anecdotes
The Director's preview

What attracted you to directing these particular plays? How did you discover them?
I was looking for plays that could be simply staged and that would not suffer from the social distancing we needed to do at the time, and that had something meaningful to say. These plays, the first two parts of a trilogy in fact, seem to fit these criteria. They are both about strangers connecting in circumstances that have brought them together unexpectedly. They both explore difficult situations and emotions in an eloquent way and see the characters finding a new understanding through the course of their conversation. Lost is set during the Falklands war and is about a mother's feelings about her estranged son, a career Navy officer. Being Friends sees two young men meet in a field in 1944 as south-east England is reeling from a new bomb threat.

Tell us a bit about the characters we'll meet and the themes that are explored?
In Lost, May (Caroline Beckett), a working class mother from the north-east, hears news about her son Ian from his friend, Geoffrey (Robert Wallis). Her feelings about him are ambivalent and she struggles to understand exactly what she is feeling. Geoffrey, a fellow naval officer, has seen a different side to Ian from that he showed to his parents and the two views create an often uncomfortable dynamic. In Being Friends Eric (Will Howells), an artist and novelist, comes upon Oliver (Jacob Smith), a conscientious objector currently working on a local farm. They discuss their very different experiences of life and shine light onto aspects that the other may not have considered including some quite traumatic events. Both are engaging and thoughtful characters who enjoy the chance to look at things from another person's very different point of view.

What have been the main challenges of directing this double bill?
As both of these plays are short, directing them as a double bill was not really a problem as they are so contained. The main challenges came out of the uncertainty of how and when we would actually be able to perform. We started preparing for these plays in late September 2020! We rehearsed initially on Zoom – a couple of times from Will's holiday accommodation even – moving into the theatre in late October. Then, just as we were in our run-up week the November lockdown came and we were unable to perform. With all the uncertainty, we eventually had to wait nearly seven months to start rehearsing again. I was amazed at the extent to which everyone had retained their lines and how they were able to add extra depth to their performances.
What do you hope audiences will take away from these plays?
I hope they will enjoy the way that the characters are able to connect with each other and find some kind of resolution in difficult times. I hope it will make them think about the complexity of human experience and how we deal with what life hands us. I hope they will be moved but feel somewhat hopeful after watching both plays.
See Also
Have there been other SLT productions of this play? Link to them here.
Or add anything that is related within this site. The author's page for instance or other plays with a similar theme.
References
External Links