Animal Farm (2008)
From sltarchive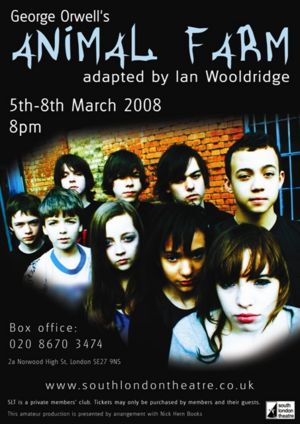 by George Orwell, adapted by Ian Wooldridge
Directed by Dave Hollander and Peter Stevens
Performances: Wed 5th – Sat 8th March 2008, Bell Theatre
Introduction
Originally written as a satire of Stalinism, George Orwell's Animal Farm portrays a farm whose animals rise up in revolt and chase out their human oppressors. As the instigators of the revolution, the pigs and their charismatic leader, Napoleon take charge of the day-to-day running of the farm, and the other animals unanimously accept their new roles in the newly equal society. Soon, however, it becomes clear that not all is well on Animal Farm, as the horses and other animals begin to realise that the pigs are rewriting the rules which were drafted to form the basis of a fair society. The legend "All animals are equal" is now amended with the line "...but some are more equal than others".
Cast
Major/Benjamin/Pilkington - Liam Sharkey
Napoleon - David Clements
Snowball - Nicholas Lowe
Squealer - Conor Jones
Minimus - Jessica Brough
Clover - Asia Pettitt
Boxer - Jack Shepherd
Mollie - Kristin Caswell-Robinson
Moses - Taylor Richards
Geese, sheep, pigeons, dogs and all other animal played by members of the cast.
Crew
Reviews
Some review quotes go here
Gallery
Reminiscences and Anecdotes
Members are encouraged to write about their experiences of working on or seeing this production. Please leave your name. Anonymous entries may be deleted.
See Also
Animal Farm (1984) - our 1984 Prompt Corner version of this.
References
<references/>
External Links