Accidental Death of an Anarchist (2009)
From sltarchive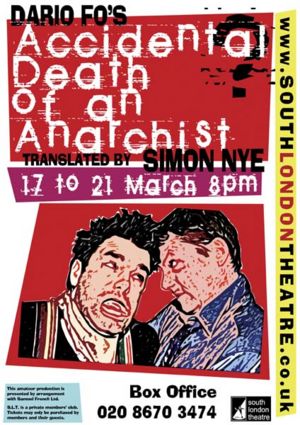 by Dario Fo, Translated by Simon Nye
Directed by Mark Davies
Performances: Tue 17th - Sat 21st March 2009, Prompt Corner
Introduction
This is perhaps Italian playwright Dario Fo's best known play, first performed in 1970. Written in response to the death of a police suspect who supposedly fell out of a police station window, it is a farce satirising corruption within the police and government. Right wing politics was, and still is, a strong force in Italy, and the play also aims to expose the underhand methods the police used to infiltrate left wing groups by posing as other people. Whilst not a policeman himself , the main character's histrionic nature is a reflection on what the police did through impersonation and trickery. Having infiltrated a police headquarters, he poses as a judge and tricks the policemen into admitting that they are involved in a cover-up. Simon Nye (of Men Behaving Badly fame) provides this translation which moves along at break-neck speed, an onslaught of farce which gets ever more far-fetched as the story unfolds.
This version of Accidental Death of an Anarchist premiered at the Donmar Warehouse, London in February 2003.
Cast
Crew
Reviews
Some review quotes go here
Gallery
Reminiscences and Anecdotes
This production is 25 years since the previous one, and Mr Lyne has since been promoted.
See Also
Dario Fo plays previously performed at SLT:
References
<references/>
External Links