Absent Friends (2004)
From sltarchive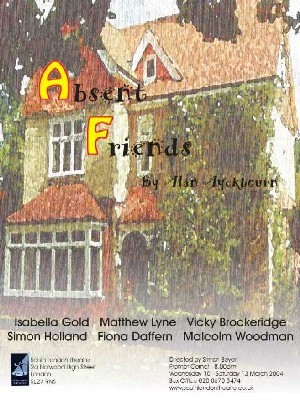 Directed by Simon Beyer
Performances: Wed 10th to Sat 13th March 2004, Prompt Corner
Introduction
Ever been to a party you wish you hadn't? Even worse if it's your party! Yep, Absent Friends delves into the murky world of a bad party and the guests not to invite. There's Marge, neurotic, and on a different planet. Check out the crazy pattern she's knitting - there's a prize for anyone who can guess what it is. And if you want crazy - Paul and Diana are going through the early stages of a marriage breakdown, so be gentle on them as they've got enough to worry about; especially as the party is at their house. Oops, perhaps that wasn't the best decision at their stage of pre-marital-failure. And who have they got at their party? None other than the guest from hell - otherwise known as Colin. "Colin me old mate, good to see you." Now there's nothing like fake sincerity to get the party swinging. Ah, but with Colin fully charged, the party's dead before it begins. He likes to put people straight and give them advice - even if they don't want it, and he gets it all wrong anyway. Poor bugger. After all, he's just lost his wife-to-be so I guess he can't help it if he's full of caring and sharing. If only jiggling John would sit still long enough to hear what Colin has to say, but then he never could stand talk about death. And doesn't Evelyn, his wife, take much glee in frightening him with it. Watch out for her razor wit in case she turns it on any of you. After all, you are sitting in Diana's living room. She doesn't mind, but don't worry if she ignores you, it's probably for the best. But please wipe your feet before you enter and don't drop any crumbs on the floor.
Absent friends is a very funny and gripping play that rips into the heart of the suburbia. Five friends gather in a bizarre pseudo-wake to cheer up their grieving friend Colin whom they haven't seen in years. Filled with cutting observations, it soon becomes clear that old friendships are not what they used to be and as the truth of their own lives emerge things slip from bad to worse! The play's entire action takes place in the living room of a modern house with suspect décor. And with the action taking place in 'real-time', we watch the characters as their lives spiral out of control in an inescapable headlong rush of self-revelation.
Cast
Crew
Reviews
Some review quotes go here
Gallery
Reminiscences and Anecdotes
Members are encouraged to write about their experiences of working on or seeing this production. Please leave your name. Anonymous entries may be deleted.
See Also
References
<references/>
External Links