4Play (2011)
From sltarchive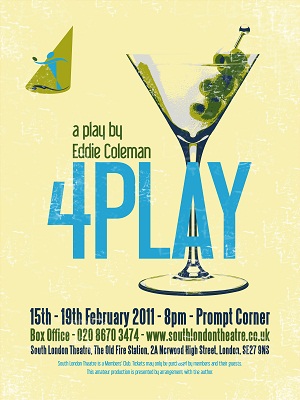 Directed by Chaz Doyle
Performances: Tuesday 15th to Saturday 19th February 2011, Prompt Corner
Introduction
New writing by Eddie Coleman exploring the complex world of relationships we all have with our partners, friends, colleagues and even therapists.
2 actors. 8 characters. 1 story. 4PLAY – How far would you go?
What would you do for love? Pretend, Manipulate, Sacrifice, Protect, Lie, Cheat, Kill...
Director's Note
Not having read this play, but approving of its premise in general, I was only slightly alarmed to have it given to me under the pretence of me being a reliable sort. We've had a short rehearsal period due to the jet-setting lifestyles of my cast, but were fortified throughout by freshly baked bread and home made yoghurt. It's been great fun, though next time I'll settle for a simple box set if you please, Mr Theatre Committee.
Cast
Crew
THANKS
Much thanks to the cast for their hard work in a short time. Thanks to my crew who have also put in the hours to get everything ready. To the bar staff who valiantly put up with requests for tea (not from us of course, this is a proper cast). Mr Gammon for short notice photos. Patrick for "necessary supplies". Carole Coyne for racing to the theatre with a new printer cartridge. Jeanette for the board. Lils for ASMing at the last moment. And Naomi, for many many things, but mostly for not smothering me in my sleep.
Reviews
Some review quotes go here
Gallery
Reminiscences and Anecdotes
Members are encouraged to write about their experiences of working on or seeing this production. Please leave your name. Anonymous entries may be deleted.
See Also
Have there been other SLT productions of this play? Link to them here.
Or add anything that is related within this site. The author's page for instance or other plays with a similar theme.
References
<references/>
External Links