Our Boys (2011)
From SLTWiki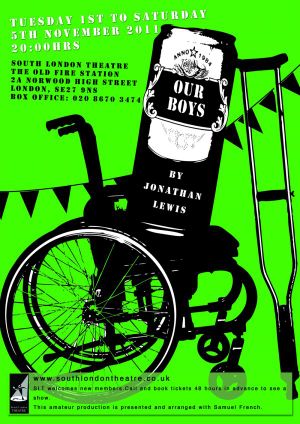 Performances: Tuesday, 1st November 2011 to Saturday, 5th November 2011, Bell Theatre
Introduction
1984. Five young soldiers, among them veterans of the troubles in Northern Ireland and the Hyde Park bombing who are killing nothing but time in a military hospital with TV, games, pornography and cynical humour as their only means of mental escape. Tensions arise however when a young officer is billeted with them ... and then the fighting really starts. Fired by the author's anger at the Army's neglect of its wounded heroes 'Our Boys' is explosively funny, perceptive and surprisingly tender. The play is fiercely current in the wake of accusations of poor equipment of our troops in Iraq and Afghanistan. It won the Best Fringe Play Award from The Writers' Guild for its author Jonathan Lewis.
Cast
Trooper Joe Morgan - Surya Bajracharya
Ranger Keith Malone - Matthew Platt
Gunner Michael Speedy - Gabriel Rodriguez-Cleary
Fusilier David Parry - Louis J Parker
Potential Officer Oliver Menzies - Ben Hayward
Rifleman Ian Cribbins - Jamael Westman
Crew
Thank You
The Park for rehearsal space Phil Gammon - Photographer Alan Buckman for help and support Trinity Hospice
Reviews
Some review quotes go here
Gallery
Reminiscences and Anecdotes
Members are encouraged to write about their experiences of working on or seeing this production. Please leave your name. Anonymous entries may be deleted.
See Also
Have there been other SLT productions of this play? Link to them here.
Or add anything that is related within this site. The author's page for instance or other plays with a similar theme.
References
External Links